Are your online prices guaranteed?
No. We make every effort to stand behind our simple online pricing, but there are rare exceptions. If you have an estate, an difficult to access lawn, or a number of difficult obstacles, we reserve the right to revise your estimate.
You will never be charged more than you explicitly agree to, and we really do bend over backwards to try to work with our online pricing.
What payment methods do you accept?
We invoice by email, and accept online payments with Visa or Mastercard. We also accept cheques (made out to Gardenzilla), and email money transfers (sent to hello@gardenzilla.ca).
What is your service area?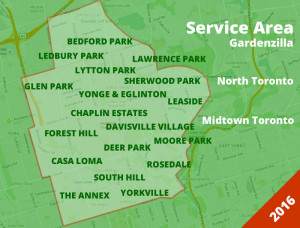 Our lawn and garden service area includes Midtown Toronto and North Toronto. We are most active between Bloor and York Mills, from Bathurst to Bayview. By region, the communities we service are -
Midtown Toronto - The Annex, Cabbagetown, The Danforth, East York, Leaside, Rosedale, South Hill / Casa Loma, Summerhill, and Yorkville.
North Toronto - Bedford Park, Caribou Park, Chaplin Estates, Davisville Village, Deer Park, Forest Hill, Lawrence Park, Ledbury Park, Lytton Park, Moore Park, and Yonge & Eglinton.
Are you insured?
Yes. We carry $2 million in general liability insurance for landscaping and snow removal, and our staff are covered for workplace injuries through the WSIB. We are happy to provide proof of coverage on request.