About Garden Mulching
Our teams quickly and affordably mulch gardens any time from April through November. The process offers numerous benefits for the garden. After an initial installation, we recommend you "top up" your mulch with fresh mulch every two to three years.
Installation Prices
For mulch top-ups and simple mulch installations, we charge a flat rate of $25 plus a price-per-bag plus hst. There are no additional labour or materials charges.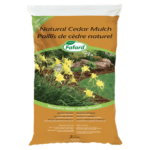 Natural cedar garden mulch, 2 cubic feet.
$15 / bag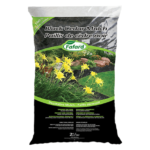 Premium deep-black garden mulch, 2 cubic feet. 
$15 / bag
Frequently Asked Questions
Mulch has a number of significant benefits for urban gardens -
gives a clean appearance to the garden, creating space between plants
improves moisture retention in the soil, reducing watering requirements
limits growth of weeds, reducing the need for regular weeding
improves soil nutrition and structure as it breaks down
Most quotes start with a quick phone or video call with our head gardener. We'll review your work, and determine the next best steps, which include
a quote - for simple jobs, we can submit a quote following the video chat
a site visit - either our head gardener or one of our team will drop by your property during the week to price out the work we discussed
a design meeting on-site (this is a paid service)
We only require deposits on jobs with a pre-hst total of more than $5000. For smaller jobs, we invoice when the work is complete. Deposits are typically for 50% of the cost of the job, with the balance owing on completion.